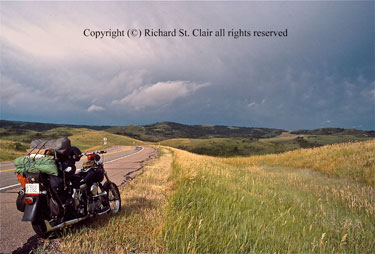 Richard St.Clair has spent much of the past 30 years living in and riding through the last stronghold of the true American nomad. Aboard his usually reliable '61 panhead, with a vast network of roads and highways to explore, St. Clair lived and chronicled a lifestyle many have only dreamed about.
His brilliant, larger than life oil paintings and hyper descriptive writings allow viewers and readers a rare glimpse into a life of freedom, adventure, beauty, and true comradeship.
His artwork captures the essence of a vibrant culture from Daytona to Yellowstone to Sturgis and beyond where the experience isn't just about the people, the bikes, or the scenery; It's about the road!